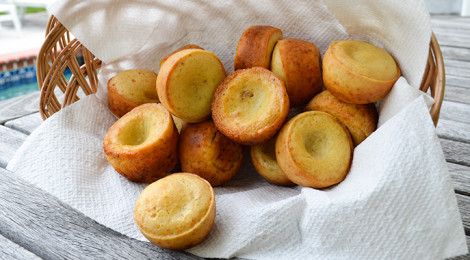 Brazilian Cheese Puffs
Adapted from a traditional Brazilian recipe, these tender little bread puffs are crisp on the outside and chewy on the inside.
1 egg
1/3 cup olive oil
2/3 cup milk
1 1/2 cups tapioca flour
3/4 – 1cup grated cheese
2 teaspoons dijon mustard
2 teaspoons black pepper
2 teaspoons garlic powder
1 teaspoon white pepper
1 teaspoons minced garlic
1 teaspoon salt
Preheat the oven to 400 °F and grease two mini muffin tins (~1.5″ openings) with cooking spray.
Put all the ingredients into the bowl of a food processor and pulse until smooth. The batter will be runny. Feel free to use your favorite types of cheese- I used a delicious blend of provolone, mozzarella and Irish dubliner.
Pour batter into muffin cups no more than 2/3 full. Bake for 15-20 minutes or until puffy and lightly browned. Be sure to check the bottoms of the cheese puffs- they tend to darken much faster than the tops.
Remove and serve warm or reheat in the toaster  oven.