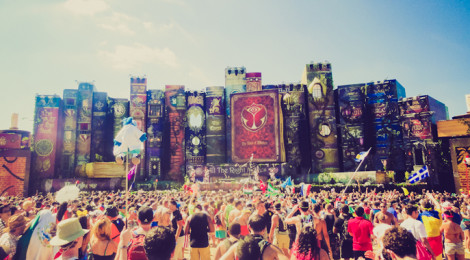 TomorrowWorld 2013: Photos & Recap
TomorrowWorld 2013 Photos
Travel to & from the Festival
Dreamville Camping
Inside TomorrowWorld
Highlights & Info!
Food and Shopping
The shopping area inside Dreamville had several food stalls, a camping supply store, a general store, a charging tent, a LED/glow store and a few other assorted merch tents.
Food stalls accepted only TomorrowWorld tokens, the grocery store accepted cash, cards and tokens.
Tokens were available at multiple locations both inside Dreamville and inside the main venue. They costed $20 for 9, $40 for 18 etc. etc. Credit cards could be used to purchase tokens at a few of the token stalls.
Food options included "Italiano" (Pizza and salad), "Frozen Treats" (ice cream and smoothies), "Dogs and Brats" (hot dogs), "Burger Co" (burgers), "Sonny's BBQ" (sandwiches, pulled pork) and "Bakery" (breakfast pies, baguettes, veggie rolls). As a vegetarian there was not much to choose from but overall the quality was very good.
Drinks included water (2 tokens), soda (2 tokens) and beer (3+ tokens). There were also a few bloody mary/daiquiri/smoothie stalls and cans of red bull available; Ice trucks sold bags of ice.
Sneaky phone charging trick: for free charging…look for power wands at the base of light poles and inside shower buildings. Otherwise, buy a charger that takes AA batteries from the charging tent.
Camping
Security entering the festival was tight- surprisingly so. Cars were searched fairly thoroughly upon passing the checkpoint off of the main road. Once we parked at the Pacific entry, picked up bracelets at will call and started the long trek to Dreamville, we went through another 2 checkpoints on foot. The first was to make sure we were over 21 years old and the next was to search through EVERY bag we brought with us to the festival. They confiscated all glass, knives, vuvuzelas (I kid you not), and other typical festival no-nos. Pack wisely- they WILL rifle through your stuff.
We were not allowed to park near our campsites; instead we were directed to either the Pacific or Atlantic parking lots. We unpacked our bags and walked to will call and then to Dreamville (at least a mile). We called our friends and set up a tent next to them (they saved us a spot).
Dreamville was open 24 hours a day– so as long as you purchased a 5-day camping pass you could go back and forth whenever you wanted to your car in the parking lots.
The festival venue itself opened at noon. We saved ourselves so much time by eating lunch inside the venue as soon as it opened (no lines!).
We were allowed to enter the main venue with camelbaks on the first day. However, on Saturday and Sunday they made us pour out our camelbaks before we could enter the venue from Dreamville. This was a pain, but thankfully there were a lot of free water stations scattered throughout the festival.
Showers cost $2 tokens- there was no shampoo/conditioner provided but the water was warm and there wasn't a time limit.